Having only just collected ourselves off the floor after listening to Where the Vampires Hide on repeat, Garrett Kato has again graced us with another round of smooth soul; this time in the form of his freshly released EP, Distant Land.
Recorded in his home studio in Byron Bay, the EP is an ode to life's significant and defining moments; an introspective reflection of what has brought him to the here and now.
Throw in the fact he packed up his life in his homeland of Canada and came to Australia to pursue a career in music, he's got an interesting story to tell and delivers it with passion.
Distant Land is the Canadian-born-musician's first full body of work since his release of That Low and Lonesome Sound in 2015. In case you're wondering, it's worth the wait!
'Distant Land is a collection of memories spanning most of my life. The songs resemble chapters to my journey from as far back as childhood and as recent as becoming a father in a new country.' 

– Garrett Kato.
The EP consists of five songs and includes hit singles River Mouth and of course, Where the Vampires Hide.
Opening the EP is title track Distant Land which combines the violin and softly picked guitar to create an evocative track, completed with Garrett's smooth vocals.
The entire collection is quintessential Garrett.
Garrett has also announced an Australian tour where he will visit Brisbane, Melbourne and Sydney.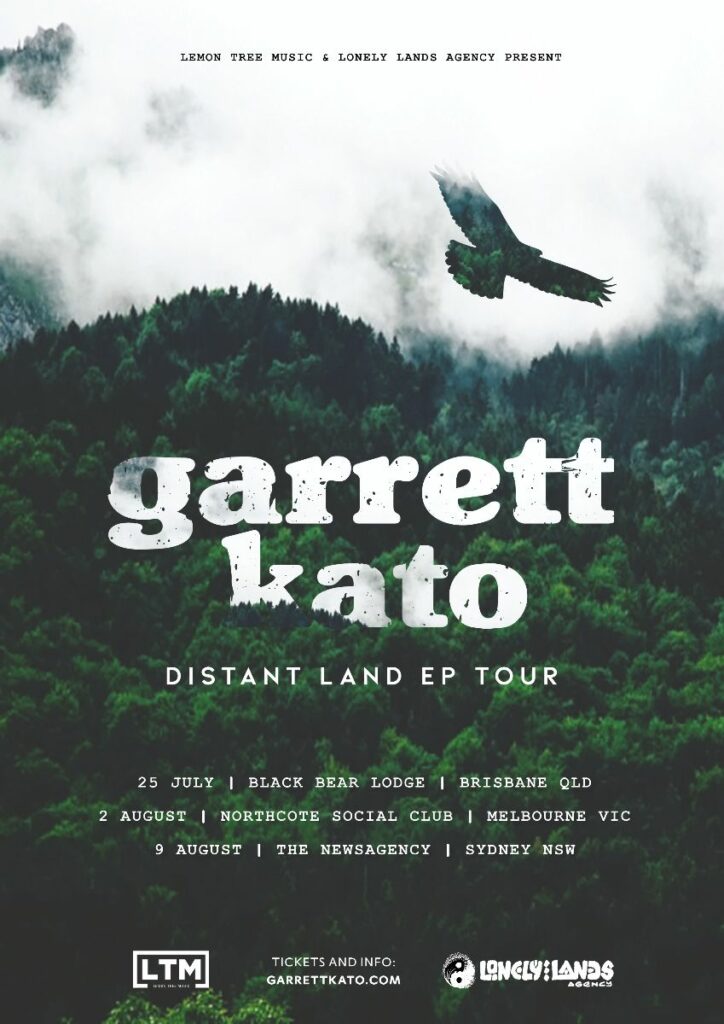 Garrett is currently touring North America with Aussie musician Ziggy Alberts, full list of dates below:
6/18 – New York, NY @ Gramercy Theatre
6/19 – Cambridge, MA @ The Sinclair
6/24 – Washington, DC @ Union Stage
6/25 – Pittsburgh, PA @ Rex Theater
6/27 – Chicago, IL @ Concord Music Hall
6/30 – Cleveland, OH @ Cambridge Room, House of Blues
7/2 – London, ON @ Rum Rummers
7/4 – Toronto, ON @ Phoenix Concert Theatre
7/6 – Waterloo, ON @ Maxwell's
7/11 – Montreal, QC @ Corona Theatre